HomeCare – Home Health Services in Greece with the Hellenic HealthCare Group prestige
HHG Group presents the new service "HomeCare - Home Health Services" that offers personalized medical and nursing services to anyone who wants or needs home care in their home environment.
With the specialized staff of Hellenic Healthcare Group and having at its disposal the most modern equipment, "HomeCare" aims at continuous medical care, improving the quality of life and facilitating the people who need help as well as their relatives, in a time at a time when conditions require it more than ever.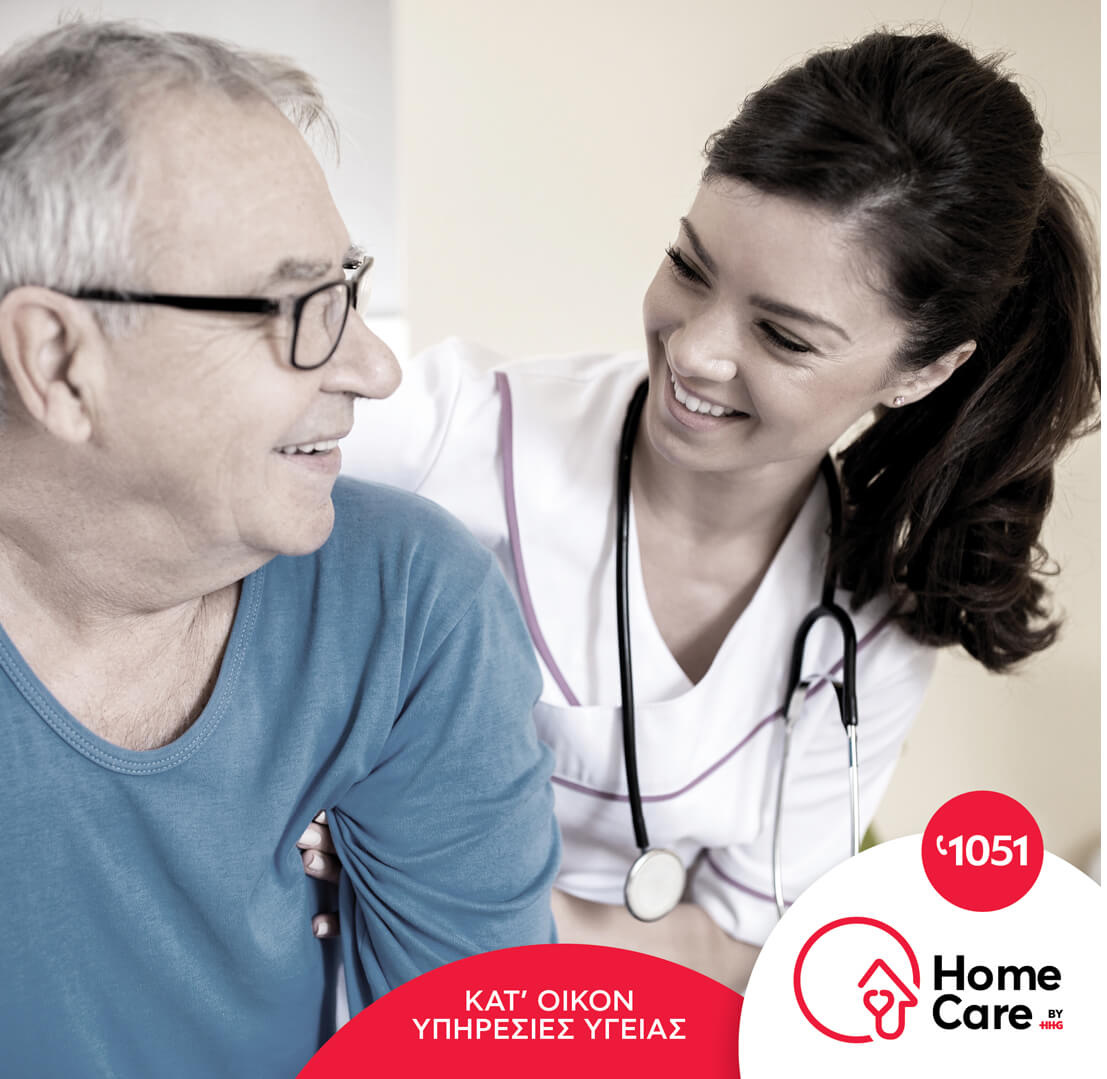 In the case of home care, this is provided after consultation with the doctor or therapeutic group of the person concerned. The administrative and nursing staff of "HomeCare" is in direct and continuous communication with the attending physician and cooperates with all hospitals in order to provide optimal care.
Today, the "HomeCare - Home Health Services" service of the HHG group has emerged as a necessary and important link in the comprehensive provision of health services.
To whom is "Homecare - Home Health Services" Addressed
People who want to carry out medical examinations in their place with comfort and discretion;
People who are unable to move;
Patients who need and wish to continue their treatment at home;
Patients who need support and follow-up after leaving the hospital;
Oncology patients;
Patients with chronic conditions or disabilities;
Disabled;
Elderly people;
Patients in the pre- and post-operative stage;
High-risk pregnant women;
Women in an IVF program;
Newborns.
What Services are Provided
Taking vital signs – clinical picture;
Blood sampling, urine collection and immediate sample transport to laboratories;
Checkup;
Intravenous administration of serum/medication;
Subcutaneous/intramuscular injection;
Parenteral nutrition;
Insertion – Change of urinary catheter;
Enema;
Aspiration of tracheobronchial secretions;
Prevention and care of depression;
Tube care (tracheostomy, ureterostomy, gastrostomy, etc.);
Personal hygiene;
Cardiogram;
Holter rate & pressure;
Patient & family training;
X-ray;
Ultrasound;
Physical therapy;
Nutritional support and treatment;
Doctor's visit;
Covid-19 test (Rapid, PCR, LAMP).
Contact

HomeCare has a 1051 call center (option 1) for immediate service to those interested in home health services.
About HHG Group

Hellenic Healthcare Group (HHG) is the largest private healthcare group in Greece. It was founded in 2018 with a vision to play a leading role in the modernization of health services in Greece according to the highest standards and the promotion of our country internationally as a pioneer in medical and nursing care. The Group has 7 leading clinics – Hygeia, Metropolitan Hospital, Mitera, Metropolitan General, Leto, Creta InterClinic and Apollonion in Cyprus – the HYGEIA IVF Embryogenesis Assisted Reproduction Unit; the company Y-Logimed, which deals in the marketing of medical technology products; AlfaLAB, the Center for Genetics and Genomics; the Business Care company, which provides workplace safety and hygiene services to businesses and organizations; Digital Clinic, the innovative digital remote medical care service; and the advanced HealthSpot diagnostic centers in Glyfada, Kifissia, Peristeri and Piraeus. The HHG model nursing units provide high-quality medical care and internationally competitive services 24 hours a day/365 days a year for every health issue, from the newborn to the elderly.